Welcome to The Ferrari of all APBT Databases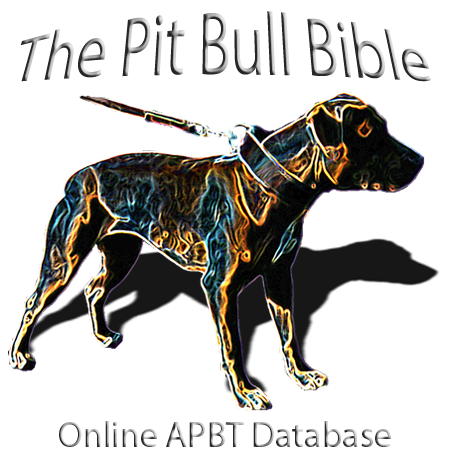 (((
PLEASE CLICK HERE to learn how to REGISTER & SUBSCRIBE
)))
The Pit Bull Bible Online APBT Database is a peerless resource for bulldog fanciers all over the world
.
Don't be fooled by superficial look-alikes:
no one has a World Class Database Infrastructure like we do--no one
.
Not only are we
the
most advanced, versatile, multi-dimensional and complete online APBT Database on the planet, but we are continuously developing this Resource, in scope and in depth, and we will continue to do so forever.
There is no APBT Resource like this anywhere
.
It is all in the infrastructure
The way we have set up everything, with every single "trait" or "title" entered separately, with each characteristic stored on different data tables, we are able to allow you, as a Subscribed Member, to conduct an infinite number of
statistical searches
that no other APBT database is set up to provide.
All other APBT pedigree sites are superficial jokes by comparison
In order to enjoy the full benefits of this Database, there is a $30 yearly membership subscription, which will grant you access not just to (((
The Ultimate Pedigree Database
))) ... which provides you with the
Statistical Features
and high-end
Search Engines
previously-mentioned ... but you also have access to our private, first-class
Discussion Forum
.
The founder of this site, California Jack, was one of
the
truly elite sources of APBT information on the planet:
all other APBT websites, and every single magazine that has ever been in print over the last 30 years, have ALL utilized Jack's articles, teachings, and web posts (with or without his permission)
, so why not just go to
The
Source
of the best APBT information on the planet? ... which is where you are now
Not only that, because Jack is the author of
The Pit Bull Bible
(the best, most all-encompassing APBT book ever written), you also have access to his unparalleled information,
for free
, in the form of various
articles
,
video tutorials
,
drug indexes
, etc.).
The Pit Bull Bible Online APBT Database
is simply
the
place where
serious dogmen and women
come to discuss their favorite subject:
BULLDOGS
, in a drama-free and congenial atmosphere.
If that sounds like what you've been looking for, then come on over and join us. With that said, please →
Click Here to Learn How to Join
←
~ Brickface, Website Owner